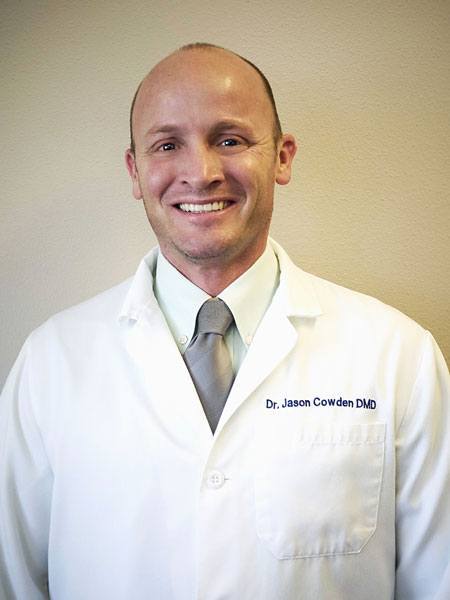 Jason Cowden, D.M.D.
Originally from Utah, Dr. Cowden graduated from Brigham Young University with a bachelor's degree in secondary education. He went on to study dentistry for four years and graduated from Case Western School of Dental Medicine in Cleveland, Ohio. Dr. Cowden furthered his dental training as an associate for a private practice in Erie, Colorado. He believes education is an ongoing commitment. Continuing his professional knowledge allows Dr. Cowden to stay in touch with the latest techniques and procedures, and it provides him the opportunity to exchange ideas with colleagues, which ultimately benefits his patients, as well as himself. Dr. Cowden has since been certified as a provider of implant dentistry.
As a dentist, Dr. Cowden recognizes that his patients are unique individuals who have placed a great deal of trust in him and his team. That is just one reason why he values each and every patient relationship. Dr. Cowden believes in educating his patients about dental health, as well as developing lifelong relationships. He believes in treating you as an individual and taking the time to ensure your satisfaction.
In his free time, Dr. Cowden loves spending time with his family. He enjoys the outdoors, sports, and reading a good book. He is a devoted husband, as well as a proud father to his four sons.
There is satisfaction in going to a dentist that you know and trust. That is why patients continue to come to Jason Cowden, DMD. Dr. Cowden is happy to help you with your dental needs and to welcome you into Cowden Family Dental.
Community and Professional Organizations
American Dental Association®
Dr. Cowden's Volunteer/Service Experience
Sealant Saturday - Sealant Program, Erie, Colorado
Education Outreach - Elementary school ADA education program, Erie, Colorado, Albuquerque, New Mexico
Indian Health Services - Ogema, Minnesota
Healthy Smiles - Sealant Program, Cleveland, Ohio
Eagle Scout
Dr. Cowden gains great satisfaction in providing quality oral health care and welcomes you as a patient.